---
Acupunctural diagnostic points are called "Au Shi" points by the Chinese. They may or may not be located on known meridians, and may or may not be known points on a meridian.
Au Shi points are only sensitive during periods of illness, when the body's electrical systems is disrupted. Blockages of energy or Qi (pronounced "Chi") cause build ups of energy in inappropriate places-much like a tree falling into a stream blocks the water into a pond. When the water has collected more than what the banks can hold, it finds new routes- out of the pond or general flooding of neighboring areas until the tree is removed from the stream.
Au Shi points are the "ponds" of energy formed from blockages. They may also be from "ponds" seeking another outlet and trying to "jump" tracks, so to speak. When the condition is resolved in the body, they go away-just like the waters in the pond.
Over the thousands of years the Chinese have had to observe the comings and goings of Au Shi points and conditions associated with them, they have confirmed them to be "diagnostic" for many forms of illness and dysfunctions of the body. Our Western Medicines even uses several of these to diagnose- the most common being the one for appendicitis.
With the advent of new diseases and dysfunctions from environmental chemicals, that weren't around thousand of years ago when the " Bible" of Chinese Acupuncture was written, new Au Shi points have and still are being discovered. The ones we present here are documented to exist in horses as well as humans suffering Environmental Illness. We hope to update this list as more come to light.
Failures of Au Shi points:
CURRENTLY, ABOUT 1/3 OF THE NEW HORSES COMING IN FOR REHAB AND TO OUR SEMINARS ARE NUMB ON ALL ACUPUNCTURE POINTS. THIS DOES NOT MEAN A NEGATIVE DIAGNOSIS, "AU SHI" OR DIAGNOSTIC THE ACUPUNCTURE POINTS TYPICALLY BECOME VERY SENSITIVE AFTER BEGINNING THE VITA ROYAL PROGRAM FOR 16 TO 72 HOURS. THEN THEY PROGRESSIVELY DISAPPEAR AS THE CONDITION RESOLVES.
THE CHINESE DESCRIPTION OF THIS PHENOMENON IS THAT THE ANIMAL IS ACTUALLY ENTERING A STATE OF DYING, AND THE QI (LIFE FORCE) HAS GONE VERY DEEP, AS IT DOES BEFORE DEATH.
THE VITA ROYAL PROGRAM RESTORES THE QI VERY QUICKLY SO THAT ACUPUNCTURAL DIAGNOSIS AGAIN BECOMES ACCURATE.
THIS IS LIKENED TO A PERSON WHO GETS MUGGED ON THE STREET, AFTER WHICH, THOUGH HURT, CAN TELL YOU WHAT HAPPENED AND HOW BADLY THEY ARE HURT. BUT IF THAT PERSON WAS HURT SO VERY BAD THAT THEY WERE LEFT UNCONSCIOUS, THEY WOULD NOT BE ABLE TO EVEN TELL YOU ANYTHING, MUCH LESS HOW BAD A CONDITION THEY WERE IN , UNTIL THEY GOT SOME MEDICAL HELP FIRST.
I HAVE FOUND SEVERAL OTHER ACUPOINTS, IN BOTH HORSES AND HUMANS, THAT HAVE VERY BENEFICIAL EFFECTS WHEN BLOOD INJECTED. THEY WILL BE ESPECIALLY HELPFUL FOR DEPRESSED STATES, CHRONIC FATIGUE WITH HYPOTHYROID AND AUTOIMMUNE PROBLEMS. ALL OF THESE ARE ADDED TO THE ''EPM" POINTS, WHICH I CONSIDER REALLY TO BE "ENVIRONMENTAL ILLNESS" POINTS, AS THEY EXIST WITH OR WITHOUT ACTUAL INFECTION BY PROTOZOA WHICH BY ACUPUNCTURAL DIAGNOSIS ALONE CANNOT BE DETERMINED.
BLOOD INJECTIONS IN HORSES OF 2 TO 5 cc. PER POINT CAN BE DONE AS FREQUENTLY AS WEEKLY, OR AS NEEDED. THESE POINTS ARE: LIVER 8, LARGE INTESTINE 10 AND 11, SMALL INTESTINE 9. NEW POINTS WILL BE ADDED AS THEY ARE DISCOVERED AND VERIFIED. HUMANS WITH E.I. DOING SELF-BLOOD INJECTIONS ON THESE POINTS HAVE REPORTED SUCCESS USING 1/2 cc. PER POINT.
---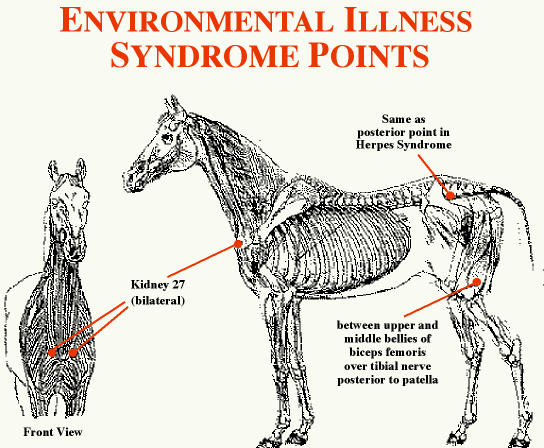 ---
It is important to understand that these points may be reactive with or without actual protozoal infection. This means that these points are more clearly associated with conditions that lead to EPM, EPDS which is actually an Environmental Illness. This means that "the doors to the body for infection are open, but it is not known if that infection has already entered." Looking at the blood under a microscope may help to give more information about an actual infection. The term EPM should be limited to the actual infection and not the Environmental Illness that comes first.
Injection of a patients' own blood to act as an auto immune stimulant was known and used many years ago in human and veterinary medicine, before the age of antibiotics. It is on that precept that we have incorporated this procedure in our approach to Environmental Illness and Equine Parasitic Disease Syndrome.
Recommendations for attending veterinarians; Identify the described Au Shi points. They will react bilaterally but in about 75% of all cases, right side reactivity will be more pronounced.
The horses will also exhibit sensitivity on the Immune point as depicted on the Auto Immune Syndrome chart, below. Points Bladder 46, Bladder 20, Gall Bladder 25 are used therapeutically. Inject B12 (Vitamin) in these points bilaterally. Leave needles in place until repolarization of tissues takes place. (Vibration of needles will stop.) ( use a 20 gauge 1 1/2" needle)
---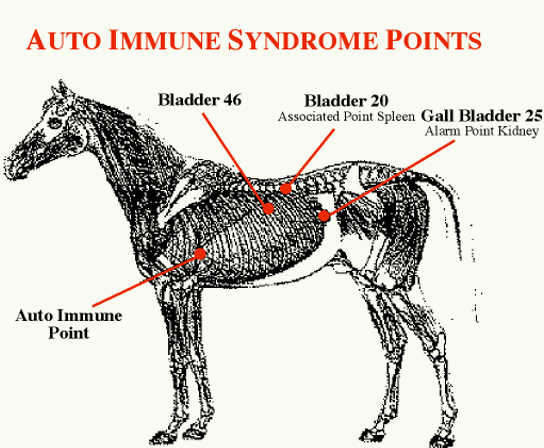 c. Upon cessation of needle vibration, IMMUNE POINT (behind arm) should disappear- DON'T POKE WHEN EVALUATING POINT REACTIVITY, Simply apply a firm gentle pressure.
d. Cessation of sensitivity on this point implies a good prognosis, suggesting the presence of a favorable immune response.
Also, refer to the following Herpes Syndrome diagram, below, to locate the Specific Diagnosis point for Herpes Syndrome.
---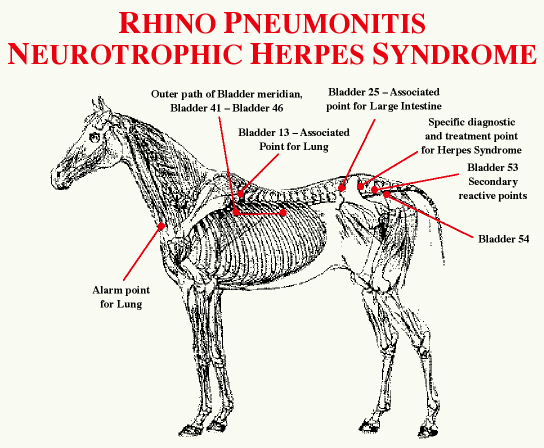 ---
For the Environmental Illness points, inject 5cc of the horse's own blood into each of the points, beginning with the front points (K27), then the left rear & lastly, the right rear. Then inject 2cc of B-12 into Bladder 46, Bladder 20, Gall Bladder 25 to see if the autoimmune point cleanses.
Some horses may need to be injected weekly, at least in the beginning, as gastric ulcers, liver toxicity from previous drugs, or immune suppression from corticosteroids, or immune exhaustion from excessive vaccination will require more time to resolve.
Some Questions and Answers on Acupunctural Diagnosis:
Q. Regarding the acupoints tests on your web site, can an owner test these points themselves, or do we need to have an acupuncturist do this and do the injections?
A. I would like to see everyone become familiar with all of the acupoints and test their horses regularly. It is sooo easy! I call these points "PHD" points for "Push Here Dummy"! Anyone can do it, and if you are handy with a needle as so many are, you can help your horse with the acupuncture instructions. Read the instructions carefully. The sickest horse may NOT be sensitive to any points until after use of the Vita Royal Program for 24 to 72 hours, until the QI or life force is brought up. Then the points will desensitize as the condition resolves.
The acupoints have an aura of about the size of a quarter or so in a horse, a dime or so in a human. Sometimes, if inflamed, they reach a size of half dollar in a horse, so your target area is quite large. It is interesting that those points which are so sore to the touch, are totally dead to the injection needle if a short one is used. When I need, I inject myself with my own blood, and if I miss the point, it feels like a bee sting just placing the needle without the injection of the blood, and I immediately withdraw. If I hit the point within the aura, I feel nothing but a pressure, not even the needle! The area of the point has a different electrical potential than the rest of the skin. Injection of B12 does sting though.
For the injection, use an 18G needle for horses, just out of habit, and because he likes to "work" the needle too. I use a 20G for most things in horses anyway, and a 1 cc, 27G insulin syringe for myself. This size needle is painless. Use two to three cc of B12 for a horse and I use 1/4 cc B12 for myself. You can buy insulin syringes without a prescription. I use these to draw blood too, as they are painless and a person can do it on themselves with a little practice. For blood injections, use five cc of blood for horses and I use1/2 cc of blood for myself. I have clients who routinely inject their acupoints with their own blood to help with autoimmune and other immune diseases. It usually gives quite a lift the day after it is done, especially the first time around, or after not having been done in quite a while. Injection of blood is an old Chinese technique that was learned from the human medicine acupuncture masters. The blood must be from the same individual, and you have to draw and inject back right away as it will clot and you won't be able to get it out of the syringe.
I use a capped pen point to test the points, and then place the needle only, carefully into the point. A short needle they will not react to much but a long needle they will feel, even if directly on the point. I use a short one designed for cats. After I place the needle, then I attach the already loaded syringe and inject. If you cannot get injectable B12, then use blood here too at 5 cc per point. B12 is stronger acting, however, it is a script and you have to get it from a vet. I have many clients who have told me that blood helped the horse too, at least better than nothing at all.
And I would say, that because of the stinging of the B12, it is safer for you to use the blood too, if you attempt the injections yourself, as you will be better guided to the points by the reaction or non reaction of the horse. Vita Royal has a video, titled Environmental Health Connections: For The Equine, showing these injections and giving instructions for the Environmental Illness/EPM points if anyone is interested. It shows the lab work I do for blood and fecals too for EI/EPM, in case anyone who has a microscope would like to see for themselves. It costs $29.95, less if ordered with the rest of the set, which is $69.95 for about seven hours worth of instructional video with case histories. I suggest you try on yourself first with an insulin syringe, so you know what it feels like to hit the point and not hit the point. You will surely know the difference! It is really not so hard to do if you are willing to try. And the benefits are wonderful if you ever need them!
Q. I asked my local vet about these "acupoints" and he just laughed at me, adding some personal slurs, too. Are these points not well-known? He says that he doesn't believe in any of this.
A. "Reality" is not dependant upon one's perception or awareness of it!
I know many of you have passed these "theories" by your vets and received some negative and probably emotional reactions. That's just the politics talking, and I truly wish I could tell you more. But mud slinging is a sheer waste of time here - we have real problems we are all facing! As soon as the weather warms up, we will be experiencing likely the biggest season yet for these problems, as well as the very real possibility of yet another epidemic infection - West Nile Encephalitis. Caught and dealt with early, progress goes well. I would much rather have the diagnosis of EPM than arthritis any day! EPM is quite simple if caught early, and dealt with in a manner HARMONIOUS WITH THE BODY!
I posted those acupoints with the permission of Dr. Cain so that everyone can have as much info as possible to be able to diagnose Environmental Illness, EPM, Herpes and autoimmune problems EARLY instead of late, when these are harder to deal with. It is very trying, dealing with veterinarians who still don't have a clue. There are many who still don't, and don't WANT to. There are also owners who REFUSE a correct diagnosis from veterinarians who ARE sharp, and risk losing the client because of having to give the client a "sensitive" diagnosis like that.
I recently donated EPM rehab programs for 15 horses for two months each to a silent auction for a USET benefit in Chicago. You know, I never had even 1 person come up and ask about symptoms, treatments, successes etc. for the entire weekend that the event ran. Finally a group of veterinarians came up and asked if I knew why no one would even talk to me, let alone bid anything at all? They informed me that they were the only group in their area that diagnoses EPM. They had lost a lot of clients to veterinarians X,Y, and Z who would not say the name "EPM" but called it something else and prescribed the same drugs! So the clients were not even aware of the problems associated with this or other like syndromes, and were totally unprepared ! But veterinarians X,Y, and Z did "not give the client a death sentence".
There is so much bad politics involving even the integrated approach that this program involves, you wouldn't believe it! Few orthodox veterinarians are even aware of autoimmune syndromes in horses, or even the chronic systemic Herpes we are seeing, and successfully working with. We have both been giving seminars separately and together to teach as many owners as we can, because most traditional veterinarians are just not interested. I have been giving weekend and single day seminars on these and human applications at no charge as fund raisers for non profit organizations that do charity work, giving back to their communities.
Personally, it is getting increasingly tiring trying to do "clean up acts" on drug therapies that don't work too. What is left is then an even MORE chemically challenged body to try to help! With the environmental illness based epidemics on the strong upsurge, the horses showing up are sicker than they were even 2 years ago. I often hear from new clients that their horses are sooo much worse than the worst horses in my case history videos! Dr. Cain and I, along with a few other aware souls out there are trying to make as much information as possible available, in as easy to use way as possible, to educate as many as possible. Neither of us are wealthy nor want to ever be, as education is really our mission. We do not have huge sums of money at our disposal to give to universities to do studies, to verify what we have already found to be true.
We were each doing our own research for many years before we joined our efforts at further research, when we both realized that what each of us had discovered made each other's approach work better for the horse! We freely give information back and forth to further improve chances for our ultimate goal, the sick horse, and the owner who cares for him.
Q. Why are there now Acupunctural diagnosis failures?
A. The epidemic of Environmental Illness has become so bad since I produced our first equine video in 1998, that reports coming in describe more horses that are too sick to even be able to respond Acupuncturally A negative acupunctural diagnosis does not necessarily mean that a horse is not affected. If the horse is showing other diagnostic symptoms, then these are often the worst biochemical cases, with the deepest "Qi" or Chi life-force. It's like a person who is close to a coma-like condition that they can't even tell you they're sick. These affected horses, however, usually show some or many of these symptoms listed in "Concurrent Symptoms": rough coat, scruffy coronary bands, dull and lifeless personality, cow hocked or a tripod stance, and/or neurological problems.
See: Concurrent Symptoms in Environmental Illness.
"Energy" method diagnosis depends upon the dysfunctional energy being there specifically. If sickness is so progressed, the energy is not there at all. The biochemical approach of Vita Royal addresses the foundation of the Chi in the first place. Be aware of horses like this; they need this help the most! At the last two seminars, horses were presented that were even beyond responding to the acupuncture points, which, described by traditional Oriental medicine, is entering a state of dying. At this point the QI withdraws from the periphery of the body and goes very deep. After 16 to 72 hours on the program, the QI or life force is heightened so that the horses responded to the points effectively, and some wildly.
This is a new observation for me and for acupuncturists using this procedure. Even the use of a scanning machine that measures differences in electrical resistances of skin to find agricultural points has confirmed this observation. Only one of the observed horses in this situation had not had drug therapy, and he was a weanling.
The length of time for QI to come up seems to be associated with the age of the horse more than the condition and severity of neurological symptoms with young horses responding faster. More numbers will tell better. I am collecting these case histories on video for documentation. The fecal exam on these severely affected horses is always very actively positive and the blood smears are usually quite positive as well. It is interesting to note that horses with the most positive blood and fecals along with a negative acupunctural diagnosis will become very positive acupuncturally within a short time of beginning the Vita Royal Program.
---
© 2011 Vita Royal Products Inc.