---
Clinical Trial: Cow Hocks
---
Chelan's Case History
---
Chelan's Vita-Royal Story
Owner: Kate Hester
Davi Chelan is the result of a backyard breeding of a Thoroughbred mare by a Shire stallion. Both parents are rather ordinary -- nice enough, with no glaring faults, but certainly nothing special. The mare is a black bay with no white markings, and the stallion is jet black with the typical Shire markings of four socks and ablaze. I was hoping for a solid jet black filly -- a poor man's Freisian!! But mostly, I was hoping that the foal would be blessed with the easy, gentle disposition of both parents.
I was also hoping that the foal would have the grace and beauty of her mother and the size and presence of her father.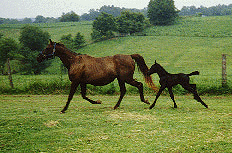 Most of my wishes came true -- Chelan is solid black and as gentle and sweet as you could wish. She is also very intelligent. At five years of age, she stands 16.2 hands -- not nearly as tall as her father, and only slightly taller than her mother. She is quite clearly a draft cross, having a boxy body and substantial bone. Cute rather than beautiful, but a nice filly.
She has a lovely neck -- important for a horse destined for a career in dressage, but, from the first time she scrambled to her feet, she stood in a tripod position, with her hind legs melding into one. That first morning, my vet was reassuring, saying that her own foal stood on three legs for the first year but grew out of it.
My trainer was also somewhat reassuring, saying that this was something that could be improved with training. Still, for a dressage horse, this was definitely an undesirable trait.
As Chelan grew, her tripod stance stayed with her and I developed the habit of admiring her beautiful neck and head and ignoring the back half of the horse! I examined photos of her parents and occasionally visited them personally, trying to see a hint of this flaw in them, but they both stand beautifully square. Only their little daughter seems to have a less than pretty stance. Assuming that this was a genetic flaw from generations past, it never occurred to me to try to improve it with drugs, supplements or nutrition. After all, to all appearances, Chelan was a healthy, happy young horse.
In March of 2000, Chelan was started on the Vita Royal program. Cowhocks or a tripod stance is one indication of Environmental Illness, which Vita Royal addresses. During her first week on the program, Chelan developed visible ripples of inflammation drainage as well as a beautiful sheen to her coat. The inflammation continued to ripple for about a month, particularly in her inner hind legs.
As the inflammation subsided, Chelan's stance gradually widened and her hind toes began to point forward rather than out. By the end of four months, she did not look like the same horse -- at least from the rear view!! Her stance is considerably wider and prettier and her movement, especially at the canter, has likewise improved.
She is just beginning work under saddle now and I am confident that she will be a lovely lovely dressage horse!
Click below to follow Chelan's progress through her Vita Royal program:
Chelan's progress from a yearling to August 2000
---
© 2011 Vita Royal Products Inc.