---
Clinical Trial: Cushing's Syndrome/Disease
---
Ollie's Case History
---
Ollie's return to health required a much longer time than the typical clinical trial period. The living location contributed, and still contributes, continuous toxic exposures in his drinking water making it difficult to achieve a full rebound.
Ollie lives near the heavily polluted St. Lawrence Seaway River which, before recharging the aquifers of that area, is fed by the Eastern Great Lakes. For more than 50 years, these bodies of water have been subject to significant industrial contamination from Ford Motors, General Motors, Chrysler, Dow Chemical Co, Parke Davis, Upjohn, Dupont and others. (NOTE: SE Michigan, where Vita Royal was founded and completed a lot of it's research, shares these same water sources, making it statistically the world's highest in autoimmune diseases and health-related mortality and morbidity.)
During the months of the clinical trial, Ollie responded positively to the Vita Royal program. The progression of his disease syndrome was halted, and some headway was made in symptom reversal. However, he did not respond as quickly as other subjects where continuing exposures from toxicity in the environment were addressed. Lorna was unable to continue the VR protocol with the specialty supplements needed for Ollie's condition, but she made the changes to his environment that she was able to make.
Now, some nine years after Ollie entered Vita Royal's clinical trials, it is evident from current pictures that he continues to exhibit a crest. Because his environmental exposures have not changed, and even with addition of drug therapy, it is unlikely he will regain the flat neck he had in 1987.
Environmental researchers note that continuing toxic exposures will generally override the benefits of even the most positive diet changes. This can happen when the complete Vita Royal protocol is implemented, especially with older and more compromised bodies burdened with a lifetime of toxin accumulation and subject to varying degrees of toxin susceptibility.
The concurrent case history of Ollie's little buddy Benji, a miniature donkey, responded much more dramatically and positively to the same Vita Royal clinical trial. Ollie and Benji together demonstrate differences in genetic suseptability to the same toxic exposures.
Vita Royal salutes all of the efforts Lorna made for Benji and Ollie. It was gratifying to be able to educate her on the benefits of a proper, clean diet and share the knowledge with her that, in these times, diet changes and environmental exposures can and do affect the overall health and quality of life for both humans and animals.
---
Owner Lorna Cane says Ollie is a Cushing's worry. He is 21, has had laminitis history (in 95), has had out-of-whack thyroid results(95),and was on thyroid powder for a year, at which point his results were normal. He didn't shed out properly last spring,has lots of guard hairs now, huge goatee over the winter, curley hair in neck area when wet. But he doesn't drink or urinate excessively, and doesn't have a bloated tummy look. He does have a huge crest though, from a number of years ago when I let him get too fat.(hanging head in shame)
He sometimes, not very frequently, makes a gutteral sound when he's working (not just when collected, either), that sounds like he wants to clear his throat,but there is never any sign of discharge. He has more gas than the others, and he is girthy sometimes. People say that's just Ollie, but I don't see why that makes sense. He used to have quite a yellowish tinge to the whites of his eyes. Milk Thistle has made that almost all disappear. He is a bit claustrophobic..never mean about it......but he's more comfortable when he doesn't have another horse riding right beside him, and he 'puts up with' the sidewalkers beside him when he does his job as a Hippotherapy horse.(a job he does once a week for 1/2 hour)
He is a school master for the riding academy,but only works 5 days a week, and rarely has more than one lesson a day.We are very careful about the weight of the riders for all my horses.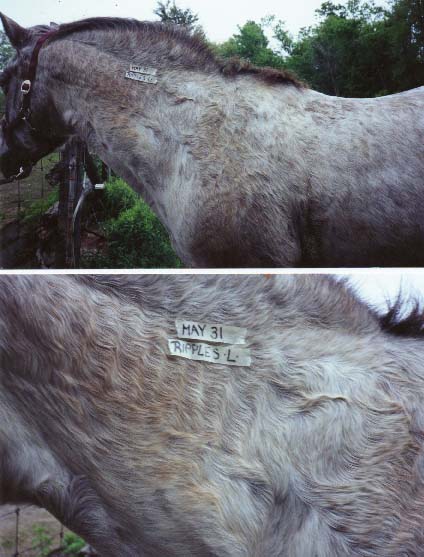 Ollie showed distinctive ripples down his neck among other symptoms in May.
Ollie was also not shedding out properly in May.
By late summer, Ollie's conformation was back to normal.
Owner's Lorna Cane's September, 2000 comments.
I've been meaning to provide some details about the famous crest of Ollie's.Some of you who are dealing with the same problem might be encouraged.
Last May my coach did some measuring.....it's not the most scientific process I've been engaged in,but pictures also bear out the figures.
The measurements were as follows:
4 " from mane at withers........................7.5" high
highest point of crest.............................14"
12" back from poll..................................10.5" high
He measured again yesterday.
The respective heights were 7" , 12.5" , and 8.75" !
As you can imagine,we are very pleased. And of course hoping for more to become less as time goes on.
Owner's January, 2001 comments
You will remember that a while after beginning Linsey's Vita Royal program Ollie became lame on his right hind, a leg in which there had been a weakness previously.
Ollie with his winter coat in late January, 2001, showing further reduction in crest and new appearance of "withers" that we never knew he had!
Linsey felt that he was experiencing myofascial release , which she knows also to happen when people are detoxing, and assured me he would come out of it better than when he went in,so to speak. And he did. His stride is longer (he's a QH X Appie... what can say?)and smoother than since forever... I've had him for 13 years.
But that's not all. Previously, when on the right rein, Ollie always used to travel with his right hind leg 'in' a little,unless the rider kept an eye on him. My trainer has now noticed that when he is being longed to the right he starts off with his right hind in a little,and then adjusts his ownway of going,and is now travelling straight. More kudos to Linsey!
We measured his crest again today,and the height of the crest is now 11 inches(from one side to the other)as opposed to the 14 inches originally.But we are having difficulty with the accuracy of the other measurements... 10 inches back from the poll,and 4 inches forward from the base... because the crest is diminishing from end to end, and the base isn't the same as it used to be . Great scientist, I am!!! Anyway, the thing is getting smaller, and I'm not having to starve him for that to happen."
Lorna Cane
Owner
---
© 2011 Vita Royal Products Inc.