---
Clinical Trial: Abscess
---
Buddy's Case History
---
Buddy is an Appendix Quarter Horse in his late 20's. In April of 1999 he was apparently bitten by a brown recluse spider -- I say apparently, because there is no conclusive test for the spider bite, but many other possibilities were tested for and eliminated by my vet.
The bite was a bit forward of the near withers just under his mane. When I first noticed it (which may have been a day or two after it happened), he had a raw patch the size of my hand that looked something like a gruesome case of rain rot.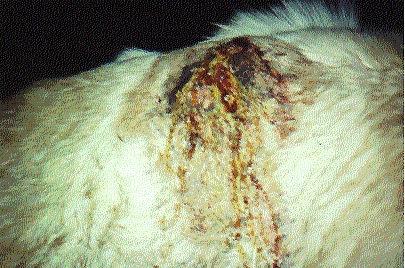 June, 2000:

Typical Eruptions.

For about six months, my vet treated him with everything she could think of. He had several rounds of various antibiotics, each successive round more powerful and lengthy than the one before. All the while, he continued to produce ever deeper and more purulent abscesses. At one point, my vet actually dug through the spinous processes from the abscessing side to the other to allow drainage. Eventually, the abscesses healed over on the original side and continued on the far side.

It was about October/November of '99 when my vet more or less gave up and told me Buddy would probably continue to abscess for the remainder of his life. At this point, I began to try all manner of remedies.

I was giving Buddy homeopathic remedies when I heard about Vita Royal in March of 2000 and accepted Linsey's invitation to put Buddy on a clinical trial. By this time, the poor old horse had deteriorated physically and mentally to the point where I seriously considered euthanasia. In addition to his profusely draining abscesses, his forelegs were becoming increasingly painful and his knees, which had been arthritic before the spider bite, were terribly swollen and stiff.

When Linsey first saw Buddy, she was appalled. Telling me that I couldn't possibly just let him continue in that condition, she rolled up her sleeves to clean his sheath (which has always been terribly scabby and infected...even the vet's antibiotics didn't clear up the problem there) and applied some of her special coconut goop.

She left me with instructions to give him several different Vita Royal products.

Over the course of the next five months, Buddy continued to abscess and drain, but with less intensity as time went on. Sometimes it seemed that he would never really heal. Each time he reached a new low, Linsey pulled another trick out of her hat and sent me a new product to give him. At least one time, he completely healed over on the surface, but with an ominous swelling and heat in the area that foretold further abscesses forming.

Several times during the five months on Vita Royal I considered euthanasia again, but Linsey was so strong in her conviction that her products would bring about resolution that I agreed to continue.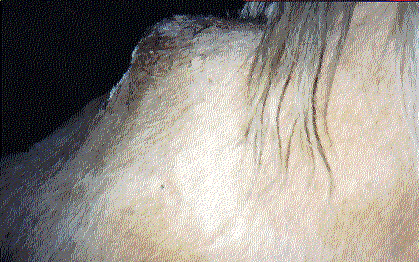 July, 2000
This month Buddy went through one last healing over phase with telltale swelling beneath. I lanced the swelling with a razor blade, flushed the cavity with a Vita Royal product, and continued to give him his Vita Royal supplements.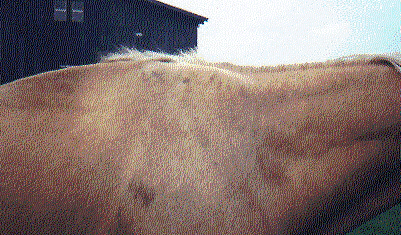 August, 2000
By August 17, Buddy's withers on both sides were completely healed over, with no open lesions, no drainage, no swelling, no heat and no signs of further problems. Since that time, he has continued to heal, growing first scars, then nice thick hair over the areas that had been open, gaping holes in his withers.
He has continued on a modified program of Vita Royal supplements since then and has shown no sign whatever of recurrence of the abscesses.
In fact, his legs are beginning to show improvement, very slowly, but definitely. It has been two or three years since he has been able to bend his knees even slightly, so his feet haven't been picked out in all that time. The farrier has never seen his soles, and has to set his forefeet on a low block of wood in order to do some manner of rasping them.
Last Thursday, October 12, 2000, the farrier came and I carried the block of wood into Buddy's stall. She picked up his left foot to set it on the block and he bent his knee! We were both shocked, but she quickly grabbed her knife and was able to clean the foot and scrape the sole just a bit even. Buddy was unable to repeat the process and couldn't duplicate the action with his other foreleg, which is much worse. But... I have noticed that he is now stepping over tiny obstacles in his path with ever so slightly bent knees nowadays, where before he would swing a stiff leg out and around the object in his way. And twice in the past week or so, he has cantered into the barn when I've called him!! This from a horse who just months before was hobbling around, taking stabbing jabbing steps that could be measured in inches!
Linsey tells me it will take up to six months for his knees to decalcify. I just can't wait to see!! It gives me such joy to see this poor suffering old horse regain his peace of mind and ease of living in his body after this long, horrible ordeal.
Update on Buddy, 1/18/01
Buddy is doing GREAT!!! Once his spider bite healed over the last time on August 17, he hasn't had even a hint of a problem in that area. My vet remarked on it just a few weeks ago when she was here. He is also doing remarkably well with his knees, considering that for the past few winters he was on heavy doses of bute during the winter (up to 3 grams daily) for knee pain. This year, no bute whatsoever!!
AND... after at least three years of walking totally stiff legged in front, his left knee is bending to the point where my farrier has been able to trim the bottom of that hoof the past two visits. The right leg is much worse, but is beginning to bend fractionally. AND... for the first time in ages, I have lately observed him lying down in the hay to take his naps. I believe he was napping standing up for the longest time because he didn't feel safe lying down, because he couldn't get up easily or quickly or even, really, at all... So, he is doing SO WELL.
Kate Hester
Owner
---
© 2011 Vita Royal Products Inc.