---
Clinical Trial: Equine Obesity
---
Benji's Case History
---
Benji's Vita-Royal Story- A Miniature Donkey
Below, at right, is Benjamin Cane watching a pal get a fly screen adjusted. Ollie, the Cushing's horse, is his best buddy. Benji protects Ollie, and leads him around to avoid ice. Benji also runs the show with the rest of the herd too!
Benji is 15 years old and is a miniature donkey. He developed "Environmental Cow Hocks" followed by morbid obesity, and is now on clinical trial for both with Vita Royal.
Here is his pictorial case history so you can scroll down to see how he has done on his Vita Royal health program.

---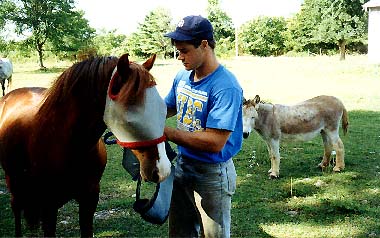 At a just matured age, but without his full facial and body hair yet, he stands nicely behind, and is an ideal weight.
---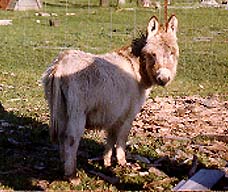 Later, as he got older, he began to assume the typical tripod stance with the hind legs together, (Environmental Cow Hocks") and then began to splay his front feet out for balance.
---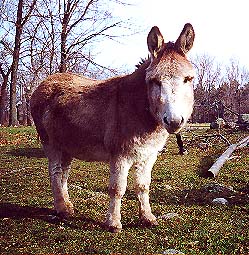 This picture shows his stance from the front.
---
Benji, below, at the start of his Vita Royal health program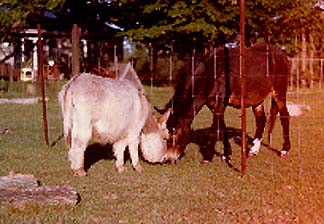 He became morbidly obese, still showing the tripod stance. This was how
he looked when I first met him in May 00, and he started his clinical trial.
---
And about a month later...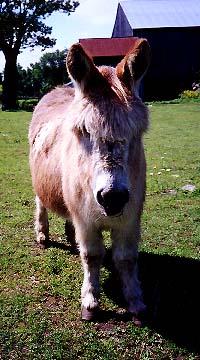 Here he is in June 2000, less than a month into the program. He has lost a good deal of weight and is widening his stance behind, and lessening his splayed-out front legs too.
---
And Finally - October, 2000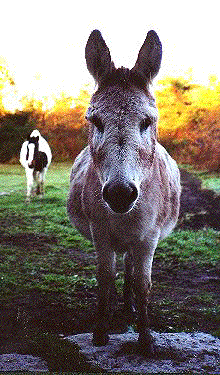 Here's a slim and much straighter standing Benji in a photo
taken just this October. Even his bangs have receded!
---
© 2011 Vita Royal Products Inc.