---
Clinical Trial: Horse Hives
---
Stolen Looks "Luke"
---
Registered Thoroughbred Gelding, Seal Bay, no markings
Born: 3/16/93
Owner, Karen Krueger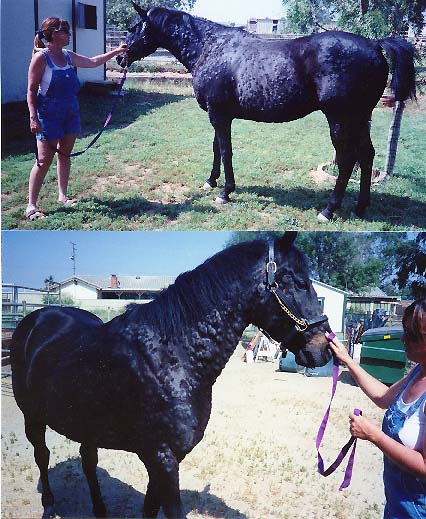 Suffering from severe hives since January 1999, began Vita Royal program in June 2000 after trying many other remedies.
Luke was born in northern California in 1993 at a very large racing thoroughbred farm. As a yearling he was sold at the Delmar sale in S. California. He was bought by a veterinarian/trainer and was raced as a 3 year old. The first race was a 3rd place and he failed to finish his second race a month later. He suffered a bowed tendon and an injury to the shoulder. I do not know his age at the time of gelding.
As a 4 year old, he was donated to the United Pegasus Foundation in Mira Loma, CA, seven miles from my house. The were to rehabilitate and re-train him as a riding horse. He never had a history of hives when he was living at UPF.
July of 1998 I adopted him from UPF. He had no physical signs of any illness other than the bowed tendon. I rehabilitated him completely after a strain to the tendon. For three months I handwalked him around the neighborhood.
January of 1999 I became very ill and was not able to play with horses. It was two days after my illness that he broke out with a few hives on his neck. The hives would get worse during the day, and then subside in the evening and be totally gone by morning. By mid-morning the hives would be back again. After a few days, the hives would stay and spread over his whole body. They were treated with Azium. The hives were never pus-filled or itchy. He never lost his hair as a result of rubbing or itching or scabbing.
I stripped his stall, took all his supplements away. Gave hime grass hay and bottled water for two weeks. He still broke out in hives. Nothing new was added to his food or environment. I moved him from his stall and left him in the round pen for a few days to see if that would help. I quit using fly spray, in case that was a problem.
February of 1999 a local vet did a blood test at my request and included a thyroid panel. This did not show anything out of the ordinary.
Feb/March of 1999 Prednisone was prescribed at 400 mg everyday for a month. He still continued to have hives. An allergy blood test was performed, and the antigens were ordered. Antigens shots were given as ordered for a year. The hives would still appear with the antigen shots. I seemed to be able to keep them under control with regular bathing with a flea shampoo with Betadine and baby oil.
A couple of local vets recommended that I move hime from the area, but I couldn't agree to that. The hives continued for a couple of more months, and then seemed to go away except for an occasional flair up that I would treat with a pack of Azium.
July, August, and September 1999 I started rifing him and then sent him to a trainer in Oct/Nov of 1999. When he went to the trainers, he broke out in two large hives the size of dinner plates that were raised 1/4 of an inch. One was on his hip and the other on his side. He had a few on his shoulder that appeared as scratches or welts. They would come on within minutes and last for 24 hours while he was at the trainers. He came home at the end of November. He was hive free.
January 2000 he broke out in hives almost to the day as the year before and now they were staying and not going away and were larger than before. They were round circles with dips in the middle. They looked like raised veins in circles. Others were fluid filled and hard and hot to the touch. Some would be the size of the palm of my hand after they melded together. They were around his eyes and nose and throat.
Feb/March 2000 I talked to everyone I know about Luke and his hives hoping that someone would be able to suggest something or someone that could help. One day in February, a girl gave me the name of a dermatologist in San Diego, CA who had helped her horse with hives. I called and she happened to be coming to my town that coming Thursday. I had just wormed him the day before she came, and his hives had dropped helf in size. She took a biopsy of a couple of large hives on his neck and prescribed Bactrim for 10 days. During the course of antibiotics his hives got better. Later she told me the results had shown vasculitis. The lab technician had recommended a significant worming program - 50 mg of fenbendizole a day for five days. His hives started to dissipate after two days of worming and did not reappear for about a week after the worming treatment.
April 2000 after the biopsy we did a skin allergy test where allergens are injected under the skin to test for reactions. His most severe reactions were to flies, mosquitos, just mites, and some plants and trees. Serums were made up and an injection program was prescribed. The first injection was .1cc of a diluted antigen. Within 2 - 3 hours of the injection, Luke was covered with severe hives and required immediate cortisone treatment. As a result of the hives he became extremely depressed and agitated. He gets very nippy and when he is turned out, runs like he could run right out of his skin. The dermatologist diluted down a third vile for me to use and that went okay until I got to .6cc and then he reacted the same as the .1cc injection. Azium was prescribed at 60 mg for 2 days, but I was afread of founder and cut it back to four packs for two days.
Then on May 29th I needed to take Luke to the hospital for a bad case of hives, fever, not eating or drinking and low manure production. They ran a CBC, did an abdominal ultrasound, ran a H-6 panel, Strep Titre, Valley Fever Titre with all results negative. I was afraid the colic was from a reaction to the hives, or an underlying infection. Azium was administered I.V. and 5mg was prescribed every other day for 14 days. I discontinued using Azium when I started Luke on the Vita Royal Protocol.
A friend of mine recently recommended Vita Royal as something that could help him nutritionally. It was her feeling that he is lacking something that could help him rebuild his immune system. That brings me to my current situation.
Luke' s reaction to Antigen Shot, May 8, 2000 and progress on his Vita Royal health program.
---
More Details Below
---
May 8, 2000:
Luke's reaction to .1cc of Antigen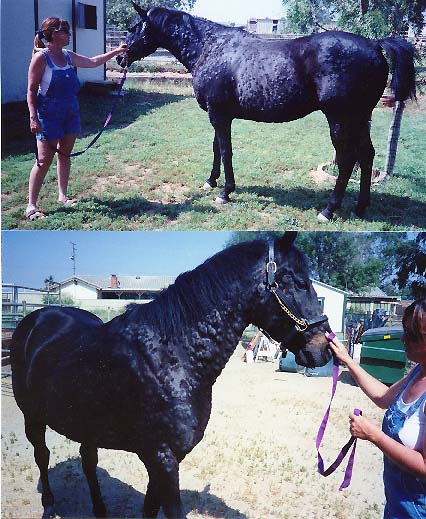 These photos two below taken three hours after his shot was given.
---
June 6, 2000: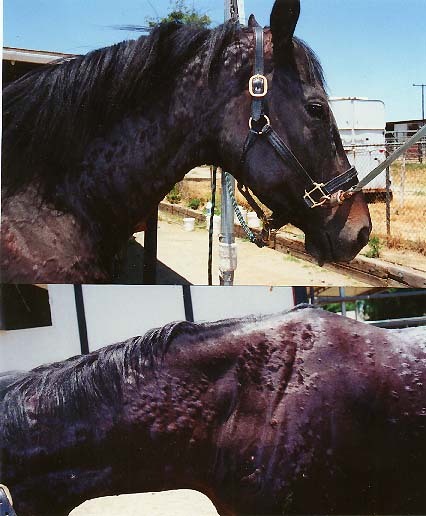 Noon the first day on Vita Royal protocol. Hives have been worsening since morning.
A very large welt on point of left shoulder seen in bottom photo.
---
June 10, 2000:
7 p.m. "A vast improvement since noon," according to owner.
Welt on chest completely gone and those on Luke's neck have greatly subsided.
---
June 11, 2000: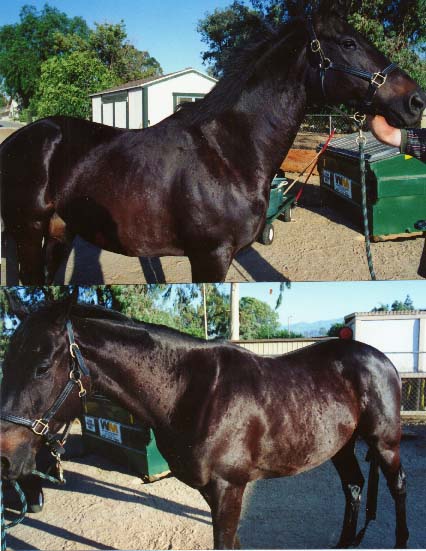 2:30 p.m., the third day on Vita Royal protocol.
Note overall improvement of hives.
---
June 12, 2000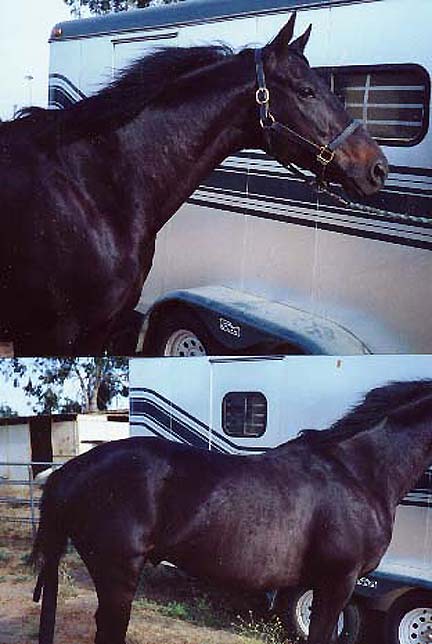 6:30 p.m. on third day
Luke's is showing only faint hives and his temperament has improved each day.
---
June 16, 2000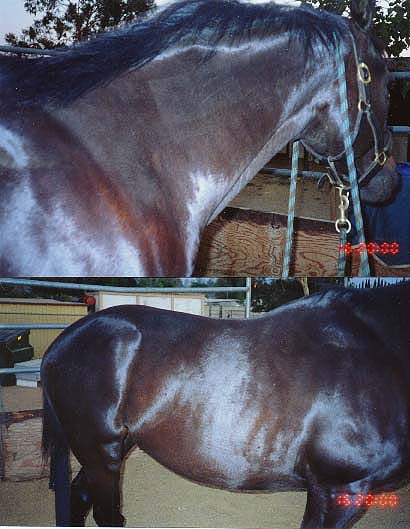 4:00 p.m. on the eleventh day
Hives are gone, with just a few under the skin.
---
Case History Update:


Monday, June 25, 2000

Provided by Owner Karen Krueger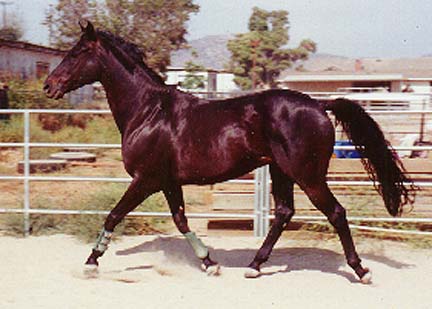 "The vet was very impressed with Lukes looks. She couldn't believe that he isn't on any steroids. That he went from looking that bad to that good in just a few days.
Tested my drinking water nitrates using the test kit supplied by Vita Royal ..and the nitrates showed 5ppm which translates to about 20ppm for California.
Called different water filter places trying to get prices on filtration systems.
My City Water analysis shows 9ppm for our area, but will have it tested again to make sure. He is still responding very well to the supplements.
A couple of incidences of mild colic which was mainly stomach aches.
After a few dosings of yogurt and Nutrient Buffer it cleared right up in about 1/2 hour to hour.
Manure production is up and water intake and urination is up too. It appears he is relieving himself of the toxins that have contributed to his problem.
No outbreak of hives!
The water situation will have to be taken care of eventually to help with total outcome. "
Linsey's comments: "The most powerful chemical toxin to the immune system, especially the thymus gland which is the seat of immunity, is nitrate. Nitrates are residues from fertilizer contamination, easy and cheap to test for. When nitrate is found it indicates that the water supply is in contact with the surface, and is often also contaminated with pesticides and herbicides as well.
This is what I believe has triggered Luke's auto immune condition."
Karen Krueger
Owner
---
© 2011 Vita Royal Products Inc.